Hiking, Refueling, Playing Games: A Picture Perfect Family Day
Amore Learning, Georgetown Events, and Happyly join forces for a four-week series designed to inspire beautiful memories for your family! Join us for week three!
---
Part One: Explore and Refuel with Happyly and Georgetown Events!!
Begin your adventure at the corner of Tilden and Reno Streets Northwest, where you can access the Melvin C. Hazen Trail. You can see a pretty view of the backside of the Moroccan Embassy from the hill on the north side of the corner. 
After embarking on the trail, the kids will love scrambling over the rocks as you follow the path through this section of Rock Creek Park, moving downhill toward the creek itself.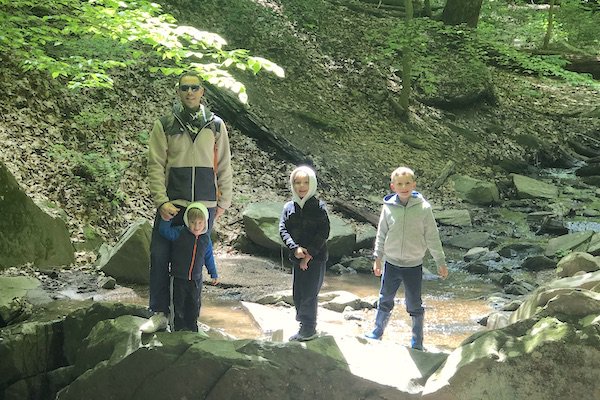 Once you reach it, go left and follow Rock Creek until you reach Peirce Mill. An optimal place to rest, spread out on the large lawn, and enjoy a snack. You can practice a game of charades based on what you saw on your hike so far, and just kick back and relax. 
Bathrooms are open for use but come prepared with water and a power snack since the journey back is uphill. Be aware you will cross Connecticut Avenue in the middle and the creek multiple times, so wear comfortable footwear that isn't too heavy, and you don't mind getting wet.
Despite the incline on the return, it is manageable. Pro Tip: Leave time to also return on the trail - the kids don't notice it's uphill when navigating the stream but the road itself is a steep trek bound to lead to unhappy little ones.
Once you get back to the start of the trail, make your way up to the Hearst Elementary School Playground for free play on two playgrounds designed for different age groups. Bring a soccer ball if your little ones are fans, particularly if you are avoiding playgrounds. There is a turf court directly adjacent to the play area.
Finally, when your family is sufficiently spent, head two minutes by car to the new Surfside Tenleytown for a fantastic dinner. You can preorder a Surfside Family Supper Club feast by phone or on the website to bring home for a fun evening of family games. Read on for more details from Amore Learning Instructional Coach McLean Fletcher in Part Two! 
If you didn't preorder, just treat yourself to a cocktail, the kids to frozen mocktails, and share a platter of the best queso, guacamole, and salsa in town while you wait for your dinner. The Fajita Boxes are ideal takeout options for a family meal. There is a huge outdoor patio with garage-style doors that create an airy feel even inside. With so much space to spread out at this new DC hotspot - you won't be disappointed.
---
Part Two: Creative Play with Amore!!
If you've never played this three-round version of Charades, I highly suggest you play with your family soon! My friends and I call it Celebrity, but make it your own! All you need is at least four people, some paper and pencils, a timer, and a fun hat or bowl. 
First, divide into two teams. Have every participant write down 15-20 "celebrity" names, but they don't have to be actual celebrities. Your crazy uncle or loving grandmother would make great suggestions, or Mickey Mouse, Mr. Peanut, Elsa, Moana or Bob the Builder! Just make sure everyone who is playing will know the person written on the slip of paper. The challenge and fun in this game have nothing to do with the difficulty of the suggestions, so deliberately create opportunities for success. 
It doesn't matter who goes first, so decide in whatever way suits you and then choose one player on the team to draw the celebrities first. In that sixty seconds round, the first player can SPEAK and make any movements they want. The only rule is they can't say any word on the card or "rhymes with." For instance, if you are choosing to do Princess Ariel, you can't say "princess" or "rhymes with" anything, but you can say "Disney mermaid with red hair!" 
This player performs as many as they can in the time allotted, and teams earn one point for each successful guess. Then the next team picks a player and they get sixty seconds to do the same. Teams play back and forth in round one completing ALL of the names in the bowl. No skipping names, which is why they shouldn't be too hard!
In the second round, place all the names back in the bowl, and play in the same order, switching between teams every sixty seconds. In the second round, move as much as you want, but you can only say ONE WORD. Princess Ariel now becomes just "mermaid" or "redhead" with any pantomime you wish to use. 
The pantomime/charade element is KEY in the second round because, by the time you get to round three, NO WORDS are allowed! Everyone will be familiar with names, but it is difficult because our brains rely on descriptive words to trigger the memory. The secret to round two is creating memorable body movements to couple with the word. If anyone says more than one word or breaks one of the rules, discard that celebrity name, and the player can continue. 
Round three is silent, as mentioned, and so much fun! All of the names go back in the bowl one last time, the player order remains the same, and you continue to switch every sixty seconds between teams. Once all the names have been drawn you tally the points and declare a winning team! 
If competition isn't your family's style, then don't tally points and just play for laughs! It is fun to watch Dad swim like a mermaid, and your children impersonate some of our more famous politicians and celebrities. This activity is perfect for either family or friend quarantine game nights! It works well with masks on or for some backyard fun with the neighbors!
Happy Charading! 
Classically trained actress, published illustrator, fine artist, personal trainer and Amore Learning Instructional Coach McLean Fletcher has some fun ideas for you and your kids this fall. McLean encourages you to practice seeing like an artist, or better yet, like a child - with curiosity, imagination, and hope. 
---
As you may have seen on social media, we've created a printable two-page PDF of this activity - click for Part One (Explore and Refuel) and Part Two (Creative Play).
Please tag your family's highlights on Instagram @gethappyly, @amorelearning, @georgetownevents, @surfsidedc and #gethappyly! We love hearing from you! 
---
Enjoying our content? Please download the free happyly app, the country's only mobile-first family activity planning app, for fast access to all of our frequent blog content, favorite activities, and expertly designed curated days, both locally and in many communities and travel destinations across the country.
Amore Learning is a boutique education business offering creative enrichment programs, personalized tutoring, and consulting. Founded by fourth-generation Washingtonian Chloe Kaplan, the Amore team continues to grow and is now made up of fourteen teachers and curriculum coaches, and participates in over a dozen DC schools - half public and half private. In addition, Amore recently launched a non-profit component, A4A (Amore For All), which serves children who are distance learning from Title I schools.
From its humble beginnings, Georgetown Events was built from the ground up, and has blossomed over the years with the help of the local community. Each establishment, with its unrivaled charm, captivates city natives and travelers alike with local cuisine and welcoming faces. No matter the destination, guests escape to a place where the drinks are cold, the food is fresh and new friends become family. While these flavors, faces and places may take you away in the moment, they will always bring you back.
Thoughtfully captured by:
Randi (Betts) Banks grew up in New York and graduated from Trinity College in Hartford, Connecticut. She moved to Washington, D.C. more than thirteen years ago with her husband, Eaghmon, and they love to explore the area and seek out adventure, now with their two young children along for the ride. Growing up right near the beach, they are happiest when on or near the water, so exploring the rivers, lakes, and streams in the greater DC area is a favorite pastime for their family. In addition to serving as one of the Washington, DC area ambassadors, Randi is also the Editor in Chief and Co-founder of happyly.
More posts by Randi
We believe deeply in setting out time for an amazing partnership.
Ongoing holiday festivities in the DC area.
Top 15 Public Libraries In The D.C. Area that are great for kids!