The Best Parks and Playgrounds In and Around the Twin Cities
The Twin Cities are widely known for their green spaces, parks, and playgrounds. Certainly, families living and visiting here are spoiled for choice when it comes to spending fun days at local playgrounds. From Stillwater to Minnetonka, kids will adore running, swinging, and playing at these Best Parks and Playgrounds In and Around the Twin Cities! Keep reading to learn more about why these are our top picks for parks and playgrounds in the Twin Cities for families.
207 Nelson St E, Stillwater, MN 55082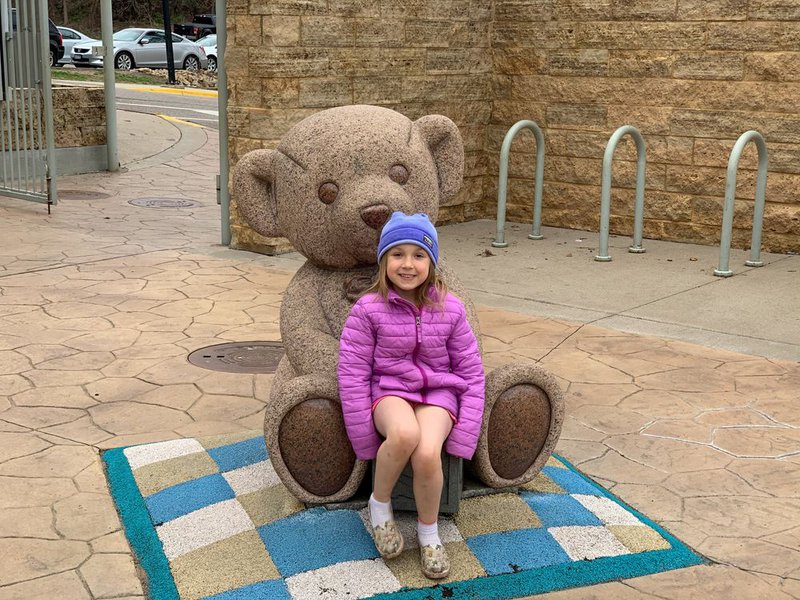 If you have toddlers and young kids, Stillwater's Teddy Bear Park is the best playground in the Twin Cities! Specially designed for this age group, parents will appreciate that it is fenced with only one entrance. You can sit back and rest easy knowing this is a safe place for kids to run and play!
Upon arrival, you will be greeted by a huge, welcoming teddy bear. Kids will delight in finding all of the teddy bears within the park. Afterward, they can climb around a large train and boat, dig in the sand, and race down the slides. Still have energy to burn? Have your kids scale the climbing wall or climb across the spider web. There are plenty of places to eat lunch here too! Check the calendar before you go, as the on-site amphitheater has regular programming. Finally, please note this playground is only seasonally available during the summer months.
4125 Radio Dr, Woodbury, MN 55125
Truly one of the best playgrounds in the Twin Cities, Madison's Place Playground is a sight to behold! This all-inclusive playground features sun-shade areas, sensory play equipment, wheelchair-accessible play equipment, swings, and more! In fact, kids of all abilities can navigate the entire structure thanks to a series of ramps and decks. Here, kids can zip, hang, swing, and slide to their heart's delight!
Summer months can also be spent on the nearby splash pad, featuring dump buckets, spray nozzles, and other areas to splish and splash. The splash pad is also divided into a section for bigs and littles, making it a nice place for large families of multiple ages. Families will also appreciate the ample parking, on-site indoor bathrooms, water fountain, and large green spaces for extra fun in the sun.
9000 90th St S, Cottage Grove, MN 55016
Looking for a magical playground that is sure to impress your kids? Make Woodridge Park and Playground your next outing. Beyond the baseball fields and basketball courts, a playground towers over the area. Perfect year-round, Woodridge Park and Playground covers 50 acres to explore.
On the playground, you will immediately notice this is one of the most accessible playgrounds in the Twin Cities. Everything is wheelchair accessible! Here, kids can swing, zipline, crawl through tunnels, and more. Parents will appreciate the many benches stationed around the playground too. After kids are done at the playground, meander the walking trails near the pond for a little extra fun. If you bring a picnic, you can make it a full day here. Finally, in the winter, bring your ice skates and head to the warming house.
416 N Griggs St, St Paul, MN 55104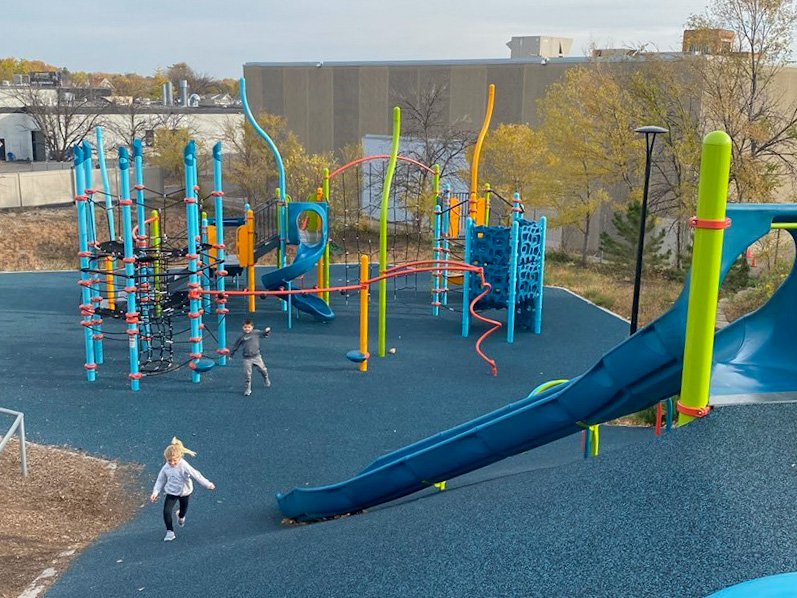 One of the newest parks in the Twin Cities, families will love the sense of community at Midway Peace Park. In addition to being centrally located in the Twin Cities, this large playground is filled with vibrant colors that will immediately attract kids. Show kids the park's namesake peace pole. Then, let them choose where to play first!
With multiple play areas, kids will love running back and forth. In the playground at the bottom of the hill, kids can challenge each other to a game of follow-the-leader through the provided course, race down slides, and more. To round out the playground experience, you will find a climbing feature and "gymnastics" rings. Lastly, you will also find plenty of places to play in the grass and picnicking areas, as well as a soccer field and basketball court.
4135 W Lake Harriet Pkwy, Minneapolis, MN 55409
Families looking for a full day of fun will love Lake Harriet Park and Playground. Start your day on the playground, where kids can climb, dig, and slide. Kids will adore the huge climbing structure, with bridges and rope ladders! With plenty of benches, parents can relax with a cup of coffee.
Nearby, there is a large field with picnic tables perfect for lunch too. Grab food at the seasonal Bread and Pickle, or pack your own! After playing for a bit, take a stroll around Lake Harriet. Challenge kids to find the fairy house, located on the south end of the lake. In fact, there are almost three miles of pedestrian and bike trails here. For fun on the lake, families can rent kayaks, canoes, or paddleboards to explore the waters together. Or hang out on the public beach. Be sure to check the events calendar for music in the park!
7000 Nicollet Avenue, Minneapolis, MN, 55423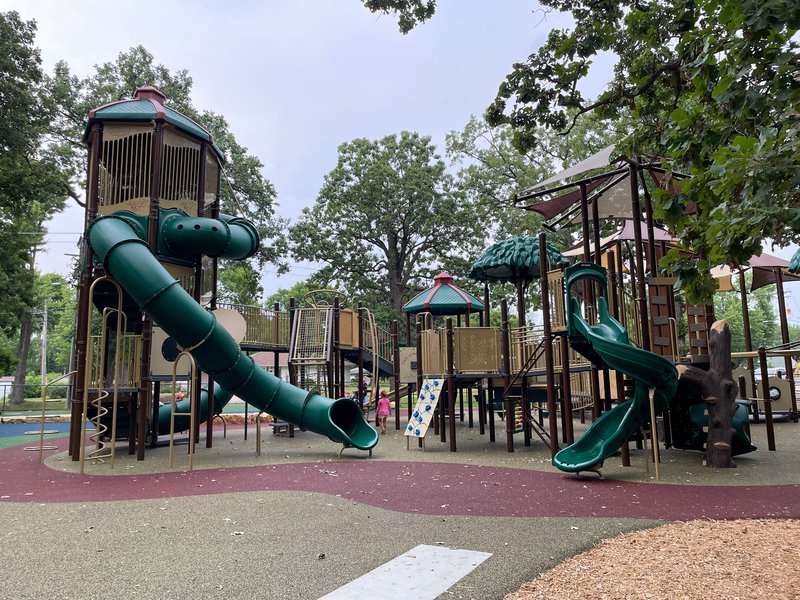 Just south of the border with Minneapolis, Augsburg Park and Playground is next on our list of the best playgrounds in the Twin Cities. Recently renovated, this playground is now one of the most accessible playgrounds in the Twin Cities, with a quiet space and multiple wheelchair-accessible features.
Kids will marvel at the two-story slide. Then, let them race across the ziplines, swing, or spin on one of the two merry-go-rounds. There is also a dedicated toddler space. With plenty of seating around the playground, parents will have many vantage points from which to watch their kids. Plus, the playground is fenced in! Outside the fence, there is a large green space with picnic tables and grills, a small pond, and immediate access to the Augsburg Park Library.
6335 Portland Ave, Richfield, MN 55423
Families seeking a dynamic park and playground will find everything they need in Veterans Memorial Park and Playground. Not only is there a large playground and scenic walking trail, but families can challenge each other to 18-hole minigolf, splash in the nearby outdoor pool, and attend the weekly Farmers Market.
On the playground, kids can enjoy a long zipline, swings, a huge play structure, slides, and more. There is even a specific area for toddlers and small children. The 1.4-mile paved loop is ideal for a lovely stroll around a pond. Little ones will love searching for geese and turtles. In the winter, families will also find an ice rink and warmer house here too.
10145 E Bush Lake Rd, Bloomington, MN 55438
Located inside the Hyland Lake Park Reserve in Bloomington, Hyland Play Area is one of the most sought-after playgrounds in the Twin Cities. Creatively designed, this playground is locally known as the "chutes and ladders park" due to its series of hexagonal climbers and slides. Kids will love chasing one another through the series of ladders, slides, sky tunnels, and more. Smaller children can also play in the designated area.
In the greater Hyland Lake Park Reserve, families can enjoy a small visitor's center, limited concessions, and restrooms. Older kids can bring their discs to play a round of disc golf. Plus, there are miles and miles of stroller and bike-friendly trails in the summer, as well as cross-country ski trails in the winter. Not to mention, scenic prairie landscapes to admire!
W 38th St, St Louis Park, MN 55416
Just west of Minneapolis, Wolfe Park Playground has a lot to offer families! Large families in particular will appreciate that there are several areas for children to play, from toddlers to tweens. Not to mention large green spaces and a charming pond. This lively park also offers two picnic shelters and a walking trail.
On the playground, little ones will adore the opportunity to scale the climbing wall, ride down thrilling slides, and swing together. Those with infants and toddlers will also enjoy the expression swings, where adults and little ones can swing together. Onsite you will also find restrooms, drinking fountains, and picnic areas. Finally, young ones who want to try their hand at fishing can do so in the pond!
5200 Shady Oak Rd, Minnetonka, MN 55343
Aptly named due to the field of oak trees shading the park, Shady Oak Beach is a popular Minnetonka spot and ideal for hot summer days. The water-front playground and beach are seasonally available during the summer months, while the area outside the fence, including shaded picnic tables (with grills) and a walking/biking path, are available all year round.
On the playground, there are areas for kids to jump, crawl, slide, and more. Kids can even dig for hidden fossils on the playground! Then, families can also enjoy sunny days on the beach, where a lifeguard is also present. A concession stand, changing areas, and first-aid area are also available. Those looking to explore the waters further can also kayak or fish!
---
What are your favorite Twin Cities spots? Have you visited any of the playgrounds on the list? Be sure to tag us on Instagram with any of your family's adventures @gethappyly.
Interested in other fun activities that will get the kids outside? Read up on our Building a Family Garden article or learn some new Sidewalk Chalk Games! Now that it's starting to warm up, there are also a number of other activities to do with kids other than the traditional park days. Check out our How to Hike with Kids Guide and enjoy a fun day out with the family.
Enjoying our content? Please download the free happyly app, the country's only mobile-first family activity planning app, for fast access to all of our frequent blog content, favorite activities, and expertly designed curated days, both locally and in many communities and travel destinations across the country.
Thoughtfully captured by:
Antonia Grant is a life-long learner and avid adventurer based in Minneapolis, Minnesota. She loves equipping families with the tools and confidence they need to travel and adventure together. Antonia is also a strong believer in the beauty of multigenerational relationships and travel. Her main adventure buddies are her husband and young daughter. As a family, they love trying new restaurants, hiking, and traveling the world! By day she works at Carleton College, by night she is a Minneapolis ambassador for happyly. She's always seeking new adventures to write about and share. Connect with Antonia on Instagram @knead.to.roam!
More posts by Antonia
As the weather slowly starts to warm, so does many families' interest in getting out and about! Here are some of the best spring break road trips from
The Twin Cities are widely known for their green spaces, parks, and playgrounds. Certainly, families living and visiting here are spoiled for choice w
Puerto Rico is a trending destination for families and it's no surprise why! Puerto Rico is filled with amazing wildlife (think lizards and parrots),